[ PR | Features | Specifications | Performance | Advantages | Manual | Reviews | Images | Buy ]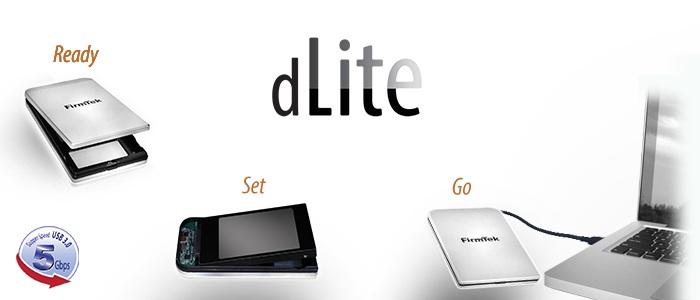 Ultra-light Bus Powered, 2.5-Inch USB 3.0 Enclosure for Mac and PC
Easily Mount SSD or 2.5" SATA HDD in this high performance enclosure
Portability and High Performance
The dLite is a revolutionary new product designed to meet the needs of computer professionals on the go. This new, bus-powered, data storage device offers performance as high as 440MB/s, which is more than twice the speed of typical USB 3.0 enclosures. The dLite is compatible with the new 5 Gbit/s USB 3.0 ports found on 2012 or later MacBook Pro, MacBook Air, Mac mini, iMac and 2013 or later Mac Pro while also backward compatible with legacy USB 2.0 ports. The ultra-small size of the dLite allows it to be held in the palm of your hand or transported easily in a pocket. At only two ounces, the dLite offers more performance power for its size than any other FirmTek product. FirmTek customers who enjoy the power of SSD and the portability and quiet operation of 2.5" storage devices will appreciate using the dLite.
While the dLite supports all 2.5-inch disk capacities, with a single 1TB SATA HDD or SSD installed, the dLite can hold up to 84 hours of HDV 1080i, 17 hours of DVCPRO HD 1080/60i or 10 hours of ProRes 422 HQ. Huge storage capacity plus an ultra small footprint makes the dLite a great travel companion for photographers and video professionals. The durable silver aluminum dLite looks great with the Apple computers and excels with audio/video editing, computer animation, digital photography, portable computing, storage expansion, backup and any application where external, trayless, hot swap, high performance data storage is desirable.
Quality Craftsmanship
FirmTek is known for innovative backplane designs with no internal SATA cabling. The dLite is no exception. This feature maximizes signal strength and enhances EMI protection, which increases reliability. The dLite product line is built from the ground up, using only our very best storage ideas.
Amazing Performance and Virtually Unlimited Capacity
The circuitry built into every dLite supports ultra high bandwidth applications. Customers have reported performance results as high as 443MB/s read and 428MB/s write with a single 6G SSD configuration. The ability to easily install the drive in the dLite enclosure makes it a favorite among photographers and video professionals who use different drives for different customer projects. This advanced feature provides virtually unlimited data storage capacity.
One dLite enclosure
One USB 3.0 cable with Mini connector