[ PR | Features | Specifications | Performance | Advantages | Compatibility | Manual | Reviews | Video | Buy ]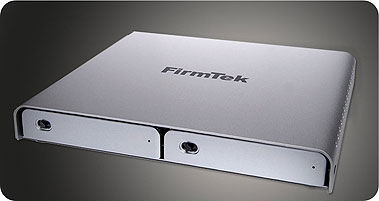 miniSwap/ES

Lose the Screws: FirmTek Debuts 2.5" Trayless Hard Drive/Solid State Drive Enclosure Solution
New for 2012!
The miniSwap/ES trayless, hot-swap, dual-bay, eSATA 6G enclosure incorporates the latest storage technologies to deliver unprecedented performance of up to 6.0 Gbps with cross-platform Macintosh and PC compatibility.
FOR IMMEDIATE RELEASE
UNION CITY, California (January 10, 2012) FirmTek, LLC, the world's leading developer of Serial ATA solutions for Apple Macintosh and PC systems, today announces the miniSwap/ES. An industry first and perfect for solid state drives (SSD) and 2.5" Serial ATA (SATA) hard drives, the miniSwap/ES enclosure provides trayless, hot-swap, 2.5" dual-bay, external enclosure support for Mac and PC computers.
The miniSwap/ES Changes Everything!
The trayless, dual-bay miniSwap/ES was created to provide 2.5" storage devices with blazing fast SATA 6G bandwidth, amazingly simple disk mounting, ultra-quiet operation and user selectable digital power modes that support auto-on or manual power-on in the case of a power disconnect. The small, ultra-light, yet rugged miniSwap/ES can be integrated as a portable on-the-go 2.5" dual-bay enclosure, or as a space saving, high performance, trayless 2.5" desktop drive mounting station. Multiple miniSwap/ES enclosures can be cascaded to provide advanced RAID performance, expanded capacity and simple or complex storage configurations.
The miniSwap/ES incorporates an innovative backplane design with no internal cabling which helps to reduce electromagnetic interference (EMI) and improve convective cooling. It supports 2.5" Serial ATA (SATA) hard drives and solid state drives (SSD). The unique miniSwap/ES trayless bay design supports standard 2.5-inch 9.5mm height devices along with 7mm, 12.5mm and even larger disks up to 14.9mm.
Do Away with the Tray
The miniSwap/ES silver aluminum chassis features an attractive design, made from extruded aluminum to keep weight at a minimum while maintaining firm structural rigidity. "Loading a 2.5-inch hard disk or SSD is as easy as inserting a bare drive into the miniSwap/ES and closing the bay door. That's it! No tray, no screws and no tools required," said Chi Kim Stanford, Vice President of Business Development. The high quality, detailed construction of the miniSwap/ES allows each 2.5" drive to connect with the FirmTek direct-connect backplane and instantly communicate with the computer. Each miniSwap/ES bay is tied to the computer with its own dedicated eSATA data cable. This connection method maximizes performance while providing superior SATA controller compatibility.
Instant Data Access
The miniSwap/ES is compatible with virtually every external SATA host adapter and built-in SATA port. In addition, the SATA 6G miniSwap/ES enclosure can support bandwidth of up to 600MBytes/sec or 6.0Gbits/sec per drive. The trayless, direct-connect miniSwap/ES enclosure is designed to excel with audio/video editing, computer animation, digital photography, portable computing, storage expansion, backup and any application where external, flexible trayless, hot-swap, high performance, data storage is desirable. FirmTek customers who appreciate the power of SSD and the portability and quiet operation of 2.5" storage devices will love the miniSwap/ES.
miniSwap/ES Key Features and Benefits
Attractive, durable, portable Trayless enclosure supports dual 2.5-inch SATA SSD or HDD
Easy to set up: No screws, no drive tray required, simply swap drives in seconds
Easy to operate: Simply open the door to insert or remove storage devices for virtually unlimited storage
Supports 7mm, 9.5mm, 12.5mm and 14.9mm drive heights
Smart Power Management: User selectable power settings for Auto-on or Manual Power-on
High performance design - Integrated Direct Connect eSATA backplane; no internal cabling
High bandwidth design - SATA 6.0Gbps up to 600MB/sec per drive
Supports SATA 1.5G, 3G or 6G HDD or SSD 2.5-inch form factor with any capacity
Fully RAID capable: Compatible with Operating System and host adapter based RAID solutions
Can be configured as JBOD or RAID and used with multiple miniSwap/ES enclosures
Power and Activity LEDs for each hard drive
Aluminum case for maximum durability and heat dissipation
Ultra quiet, fan free, aluminum heat dissipation cooling system
High performance can handle multiple projects simultaneously
Perfect for both storage-hungry and speed-sensitive applications
Cross-platform, PC and Macintosh compatible, operating system independent
Expand storage without overloading the computer's power supply or increasing heat within its chassis
Works with Macintosh or PC with shielded Serial ATA ports running Mac OS X, Windows or Linux
Kensington Security Slot
Availability
The FirmTek miniSwap/ES is now available from FirmTek authorized resellers (Part# MS-ES). Specially priced build-to-order miniSwap/ES bundles with custom pre-installed SATA hard disks or SSD configurations are available at the FirmTek Store. For more information or to purchase FirmTek products, please visit FirmTek's website at www.firmtek.com.
About FirmTek
Headquartered in Silicon Valley and founded by former Apple engineers, FirmTek is a leading hardware and firmware research and development company focusing on storage technologies. The company takes pride in developing reliable, high performance computer storage solutions. FirmTek products are offered through FirmTek's OEM and worldwide distribution channels. For information on how FirmTek helps users deploy, and organizations develop, advanced storage interface solutions, please visit FirmTek's website at www.firmtek.com, or drop us a line at the FirmTek support page.
FirmTek, UltraTek, AV- Tek, SeriTek names and logotypes are trademarks of FirmTek, LLC. Apple, Macintosh, MacBook, MacBook Air, Mac Pro, MacBook Pro, Mac, and the Mac logo are registered trademarks of Apple Computer, Incorporated. Windows is a registered trademark of Microsoft Corporation.