[ Features | Specifications | Press Release | Reviews | Now Available for Purchase ]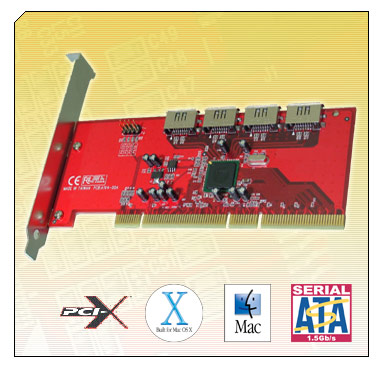 Four Port Internal Serial ATA
PCI-X Host Adapter
The SeriTek/1V4 Host Adapter provides an easy and affordable way for Macintosh users to add inexpensive, high-speed storage. With four internal Serial ATA ports, each offering 1.5Gbits/sec performance, the SeriTek/1V4 provides the high bandwidth to meet the needs of performance-hungry applications. The SeriTek/1V4 is PCI-X compatible, permitting Power Mac G5 users to take advantage of the latest extended PCI technology while maintaining backward compatibility with older Power Macintosh systems.
Plug-and-Play ease of use
Completely self-contained booting functionality, no driver installation necessary
Boosts overall system performance with per-port data transfer rates of up to 150MBytes/sec or 1.5Gbits/sec
Supports Power Mac G5 PCI-X (Peripheral Component Interconnect Extended) bus
Compatible with all PCI-based Power PC Macintosh computers
Supports Mac OS 9, and OS X version 10.1.5 or later
Provides performance and protection: Supports native OS X RAID 0/1; OS 9 RAID with 3rd party software
User-upgradeable firmware
48-bit LBA support for drive sizes larger than 137GB
Perfect for upgrading and expanding legacy and G5 Macintosh computers
PCI-X 1.0a compliant 64-bit at 133/100/ 66MHz bus speeds
Backward compatible with standard 32/64-bit PCI at 33MHz and 66MHz bus speeds
Direct Port Access: Enhanced performance by allowing data transfer to all four drives simultaneously
Bus master operation enhances multitasking during disk transfers and increases CPU efficiency: The CPU is free to handle other tasks during data transfers between the PCI Bus and system memory
Data protection: Supports OS X RAID, OS 9 Software RAID (third party software), and other storage utilities
Reduced setting on storage devices (no master/slave) means easier installation and replacement
Ideal for a variety of Power Macintosh applications: Desktop publishing, Audio/Video storage and editing, photo/graphics storage and editing, servers, and gaming.
SeriTek/1V4 PCI-X Serial ATA controller with four internal SATA connectors
Two 60cm data cables
User's manual
Note: Early Hitachi Serial ATA hard drives are incompatible with the SeriTek/1V4 Host Adapter. This is due to a seldom-used Serial ATA feature called SSC, which is enabled on these hard drives. The SeriTek/1V4 does not support this feature. Newer model Hitachi Serial ATA hard drives should be compatible with SeriTek/1V4.

At this time, the following Hitachi Deskstar hard drives have the SSC feature disabled, and are compatible with the SeriTek/1V4 host adapter:
Model 7K400 (400GB) – Part Numbers 0A30984 and 0A30985
Model 7K250 (250GB) – Part Number 0A30340
Model 7K250 (160GB) – Part Number 0A30339
Model 7K250 (120GB) – Part Number 0A30338
Model 7K250 (80GB) – Part Number 0A30337
Other Serial ATA hard drives from manufacturers such as Maxtor, Seagate, and Western Digital do not have this feature enabled by default and are therefore compatible.