[ Features | Specifications | Press Release | Available for Purchase June 21st ]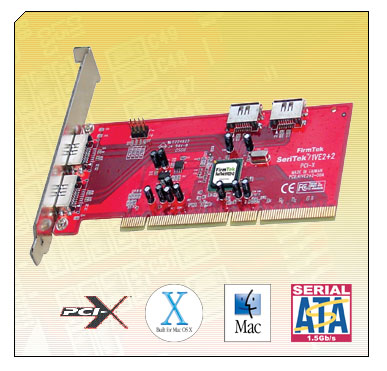 2-Port External, 2-Port Internal Serial ATA PCI-X Host Adapter
The SeriTek/1eVE2+2 Host Adapter provides a flexible way for Macintosh users to add inexpensive, high-speed storage. With two external Serial ATA ports, and two internal Serial ATA ports, each offering 1.5Gbits/sec performance, the SeriTek/1eVE2+2 provides the high bandwidth to meet the needs of performance-hungry applications. The SeriTek/1eVE2+2 is PCI-X compatible, permitting Power Mac G5 users to take advantage of the latest extended PCI technology while maintaining backward compatibility with older Power Macintosh systems.
Two external shielded Serial ATA ports with exclusive hot-swap capability
Two internal Serial ATA ports
Plug-and-Play ease of use
Completely self-contained booting functionality, no driver installation necessary
Boosts overall system performance with per-port data transfer rates of up to 150MBytes/sec or 1.5Gbits/sec
Supports Power Mac G5 PCI-X (Peripheral Component Interconnect Extended) bus
Compatible with all PCI-based Power PC Macintosh computers
Supports Mac OS 9, and OS X version 10.1.5 or later
Provides performance and protection: Supports native OS X RAID 0/1; OS 9 RAID with 3rd party software
User-upgradeable firmware
48-bit LBA support for drive sizes larger than 137GB
Perfect for upgrading and expanding legacy and G5 Macintosh computers
PCI-X 1.0a compliant 64-bit at 133/100/ 66MHz bus speeds
Backward compatible with standard 32/64-bit PCI at 33MHz and 66MHz bus speeds
Direct Port Access: Enhanced performance by allowing data transfer to all four drives simultaneously
Bus master operation enhances multitasking during disk transfers and increases CPU efficiency: The CPU is free to handle other tasks during data transfers between the PCI Bus and system memory
Data protection: Supports OS X RAID, OS 9 Software RAID (third party software), and other storage utilities
Reduced setting on storage devices (no master/slave) means easier installation and replacement
Ideal for a variety of Power Macintosh applications: Desktop publishing, Audio/Video storage and editing, photo/graphics storage and editing, servers, and gaming
SeriTek/1eVE2+2 SATA host adapter board
Two 60cm internal data cables (external data cables available separately)
User Manual on CD-ROM
Note: Early Hitachi Serial ATA hard drives are incompatible with the SeriTek/1eVE2+2 Host Adapter. This is due to a seldom-used Serial ATA feature called SSC, which is enabled on these hard drives. The SeriTek/1eVE2+2 does not support this feature. Newer model Hitachi Serial ATA hard drives should be compatible with SeriTek/1eVE2+2.

At this time, the following Hitachi Deskstar hard drives have the SSC feature disabled, and are compatible with the SeriTek/1eVE2+2 host adapter:
Model 7K400 (400GB) – Part Numbers 0A30984 and 0A30985
Model 7K250 (250GB) – Part Number 0A30340
Model 7K250 (160GB) – Part Number 0A30339
Model 7K250 (120GB) – Part Number 0A30338
Model 7K250 (80GB) – Part Number 0A30337
Other Serial ATA hard drives from manufacturers such as Maxtor, Seagate, and Western Digital do not have this feature enabled by default and are therefore compatible.