[ PR | Features | Specifications | Performance | Advantages | Compatibility | Manual | Reviews | Video | Buy ]
FirmTek Ships First 2-Port, 6G, eSATA Controller With Macintosh SMART Application And Port Multiplier Support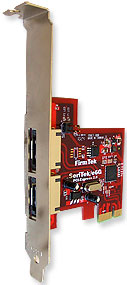 Union City, Calif., August 31, 2010
FirmTek, LLC, a pioneer and leader in Serial ATA (SATA) storage solutions announced today the SeriTek/e6G 2-Port eSATA 6G host adapter is shipping. Mac OS X 10.6.x "Snow Leopard" 64-bit and 32-bit modes are supported along with Mac OS X 10.5.x, 10.4.11, Windows 7, Vista and Windows XP. This new PCI-Express 2.0, one-lane (1x), 6G, eSATA controller is designed to expand the external storage options available for the Apple Mac Pro, late 2005 PowerMac G5 (11,2) and Windows PC's with an available PCI-Express expansion slot.
"The ultra small, high quality, 2-port, 6G, eSATA FirmTek SeriTek/e6G can provide 255MB/s average read performance with a single OWC Mercury Extreme Pro RE Solid State Drive or for maximum storage capacity customers can connect up to ten hard disks", said Chi Kim Stanford Vice President of Business Development. The SeriTek/e6G can be used without installing a driver with Mac OS X 10.5.x or 10.6.x systems. However, if the FirmTek driver is installed customers can take advantage of advanced features like port multiplication with SMART application support, optimized enclosure performance, hot plug support for Oxford 936 based enclosures and Mac OS X 10.4.11 compatibility. The development of a specially designed SeriTek/e6G driver allows FirmTek customers to experience enhanced compatibility and extra features.
The SeriTek/e6G is ideal for audio/video editing, photography, large media content libraries, storage expansion, backup and any application where external, hot swap, data storage is desirable. The new FirmTek 64-bit SeriTek/e6G driver is built from the ground up to take advantage of Snow Leopard while providing an ultra low power, high performance native PCIe 2.0 to Serial ATA 6G interface. With built-in SATA 6G, 3G and 1.5G support for 3.5" and 2.5" SATA hard disks plus solid-state drives (SSD), the SeriTek/e6G future proof's computer hard disk connections while also supporting legacy storage devices.
Performance
Macintosh and PC customers with expanding data storage needs will enjoy the addition of external 6G eSATA ports. Two direct connect 3.5" SATA hard disks attached to the SeriTek/e6G provided RAID 0 performance over 250MB/s during FirmTek performance trials. With Solid State Drives (SSD) connected, average read performance can climb to over 390MB/s. Multiple SeriTek/5PM enclosures can be utilized to support up to ten hard disks with a single SeriTek/e6G. Hard disks installed in the SeriTek/5PM can be formatted as individual disks, multiple RAID sets or as one large RAID. The tiny SeriTek/e6G supports a large array of storage configuration options and features.
Configuration Options
Got data? The SeriTek/e6G and SeriTek/5PM combination supports up to five hard disks on each port. Up to 20TB of data storage is available when ten 2TB hard disks are installed in two SeriTek/5PM enclosures! Performance minded users looking for excellent dual drive performance can configure the SeriTek/2EN2 with the SeriTek/e6G. This option supports high performance direct connect hard disk configurations. As both direct connect and port multiplier enclosures are supported, customers can select the SeriTek/e6G configuration option that best meets their needs. JBOD, Striped RAID sets (RAID 0) and Mirror (RAID 1) volumes are all supported. The SeriTek/5PM allows users to backup one RAID to a second RAID in the same enclosure, backup a four disk RAID to an individual hard disk or backup an individual hard disk to another hard disk. The FirmTek SeriTek/e6G provides customers with an outrageous number of hard disk configuration options for data creation, manipulation, distribution and backup.
Think SMART - Think FirmTek!
The new FirmTek SeriTek/e6G driver includes S.M.A.R.T application support. This feature allows the FirmTek driver to deliver SMART data to Macintosh third party utilities like Hardware Monitor. Users can conveniently monitor hard disk temperatures and the health of hard disks attached to the FirmTek controller while using their favorite Macintosh SMART reporting application. In addition, Disk Utility can be used to verify the SMART status of hard disks. SMART application support provides users with an excellent tool for keeping an eye on the condition of hard disks attached to the SeriTek/e6G.
FirmTek SeriTek/e6G Key Features and Benefits
Two-port eSATA 6G host adapter with 64-bit and 32-bit "Snow Leopard" compatibility

Backward compatible with Mac OS X 10.5.x and 10.4.11

Compatible with the Apple Mac Pro

Compatible with late 2005 PowerMac G5 (11,2) PCIe model

Compatible with Windows 7, Vista and Windows XP

Onboard SATA 6Gb/s PCI-Express 2.0 to Serial ATA controller chip

Low power usage = Low Heat = No Fan Required = Quiet Operation

Supports Disk Utility RAID 0, 1 and JBOD configurations

S.M.A.R.T application support for third party Macintosh utilities

PCI-Express 2.0 compliant, backward compatible with PCIe 1.0 slots

SATA 6Gb/s compliant, backward compatible with SATA 3.0 and SATA 1.5 Gb/s

Provides hot swap and PM support which is not available with internal Mac Pro bays

Hot swap enclosure leaves internal Mac Pro bays open for Mac OS X and Boot Camp

Complete CRC error checking, for all bits transmitted, offers enhanced data protection

Bus Mastering off-loads data I/O handling from CPU

User-upgradeable firmware

Utilizes standard eSATA connectors

First and only 2-port 6G controller with SMART application and Macintosh port multiplier support

Port multiplier support: Connect up to 10 drives using SeriTek/5PM enclosures

Direct connect support: Connect up to 2 drives with a SeriTek/2EN2 enclosure

Supports Oxford 936, JMicron and Marvel Port Multiplier based enclosures

Multiple SeriTek/e6G controllers can be configured to support a single RAID set

Simple to install, Easy to Use, Full Featured eSATA 6G 2-Port Controller

Pricing and Availability
The FirmTek SeriTek/e6G 2-port eSATA controller for Apple Mac Pro, late 2005 PowerMac G5 (11,2) and PC is now available, with an estimated retail price of $99.95 USD. The SeriTek/e6G (SATA-e6G) can be purchased from FirmTek distributors, resellers or directly from FirmTek. The SeriTek/e6G is also available bundled with the SeriTek/5PM (SATA-5PM-6G). For more information about the SeriTek/e6G, please visit FirmTek's website at
https://www.firmtek.com/seritek/seritek-e6g/
.
About FirmTek, LLC
Headquartered in Silicon Valley and founded by former Apple engineers, FirmTek is a leading hardware and firmware research and development company focusing on storage technologies. The company takes pride in developing reliable, high performance computer storage solutions. FirmTek products are offered through FirmTek's OEM and worldwide distribution channels. For information on how FirmTek helps users deploy, and organizations develop, advanced storage interface solutions, please visit FirmTek's website at www.firmtek.com, or drop us a line at the FirmTek support page.
SeriTek is a trademark of FirmTek, LLC. Other trademarks are the property of their respective owners.