[ Press Release | Features | Specifications | Performance | Key Advantages | Compatibility | Manual | Reviews | Buy ]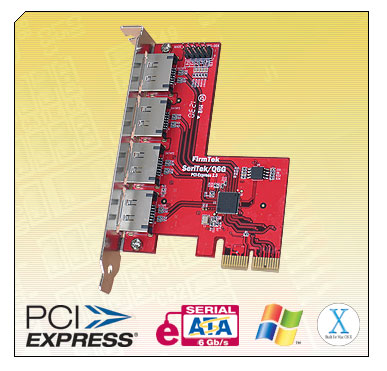 Mac OS X Bootable, 4-Port, 6G, eSATA Host Adapter for PCI-Express 2.0 Equipped Apple Mac Pro, Windows 7 PC or Thunderbolt PCIe Expansion Chassis
The SeriTek/Q6G is compatible with all Apple Mac Pro computers with an available PCI-Express 2.0 slot. The high performance SeriTek/Q6G is Mac OS X Bootable, whether installed inside the Apple Mac Pro with a PCIe 2.0 slot or inside a Thunderbolt PCIe expansion chassis. Windows 7 is also supported with Bootcamp or desktop PCs with an available PCI-Express 2.0 4x slot.
Ultra High Performance: The SeriTek/Q6G offers four channel, extreme PCIe 2.0 bandwidth, designed to maximize Solid State Drive (SSD) and Hard Disk Drive (HDD) performance. The latest 6G SSD technology requires maximum SATA controller bandwidth to enable full performance. The SeriTek/Q6G was born to meet this challenge. With each port featuring bandwidth over 500MB/s, the Q6G is a great option for adding a bootable 6G SSD to the Apple Mac Pro.
SMART Application Support: The FirmTek SeriTek/Q6G driver features S.M.A.R.T application support, which enables it to deliver SMART data to third party Macintosh utilities like Hardware Monitor. Users can conveniently monitor hard disk temperatures and the health of hard disks attached to the SeriTek/Q6G. In addition, Disk Utility can also be used to verify the SMART status of hard disks connected to the SeriTek/Q6G. SMART application support is a useful tool for keeping an eye on the condition of your hard disks and verifying they are receiving sufficient cooling.
Port Multiplier: The FirmTek SeriTek/Q6G includes port multiplier support which allows up to twenty hard disks to be connected to the controller when four 5-bay SeriTek/5PM enclosures are available. The port multiplier configuration option can provide massive storage volumes and excellent performance. The SeriTek/Q6G optimizes performance for up to 5 hard disks per data port by utilizing the advanced bandwidth characteristics of the PCI-Express architecture. When 20 high performance hard disks are configured in a RAID 0 array, throughput can reach beyond 600Mb/sec, enabling up to four simultaneous HD video feeds to be streamed directly to disk. In addition, port multiplication offers significantly less cable clutter. A single eSATA data cable can attach up to five hard disks to the computer. The SeriTek/Q6G can dramatically increase on-hand high-performance data storage capabilities. With up to 20 RAID configured hard disks connected simultaneously, accessible storage limits can be effectively eliminated for all but the most demanding applications.
Direct Connect: Using a direct connect hard disk enclosure like the FirmTek miniSwap/ES allows up to two external 2.5-inch SSD or SATA hard disks to be attached to the SeriTek/Q6G. Dual miniSwap/ES enclosures can be connected to maximize all four SeriTek/Q6G ports. This configuration offers optimal bandwidth for ultra-high performance RAID installations with a limited number of disks. The SeriTek/Q6G controller allows the customer to select which hard disk configuration option best suits their needs.
miniSwap/ES - RAID 0
The QuickBench Test results displayed below provide an example of SeriTek/Q6G performance with a miniSwap/ES using RAID 0 with dual 6G SSD. A 2009 Apple Mac Pro 2.26 GHz running Mac OS X 10.8.2 with 12GB of memory was used along with two 128GB SSD.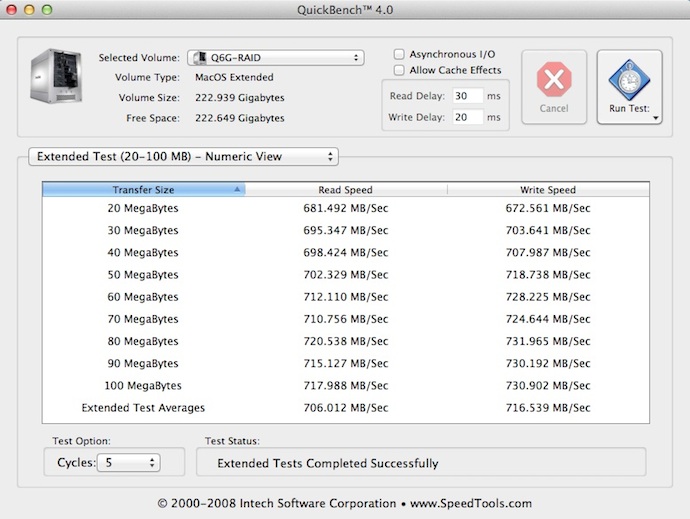 Boot Mac OS X Using SeriTek/Q6G
The DiskTester 2.0 results below show a single 6G SSD used as a boot drive with Mac OS X while mounted on the SeriTek/Q6G. Read transfer rates up to 500MB/sec. are recorded even when the SSD is almost full.