[ Features | Specifications | Manual (PDF) | Press Release | Reviews | Buy ]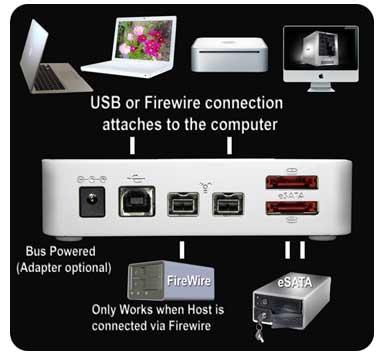 Provide Boot Capability to External Direct Connect SATA Enclosures and Share Data with any Computer!
FirmTek provides versatile, cutting-edge, SATA enclosures and host adapters for computer users looking for high performance data storage solutions. These SATA enclosures provide extremely high data transfer rates with JBOD or RAID configurations. The only issue holding back the adoption of SATA enclosures with all computers has been that many models do not provide the ability to add SATA host adapters.

The SeriTek/SpyderHUB changes everything!
This ultra small, 4-ounce/110-gram device is a great travel mate for computer users that want to have the ability to connect to external eSATA hard drives. Imagine MacBook "Air" on the road with the capability to attach up to two eSATA hard drives at a remote location. Computer labs wanting access to eSATA enclosures on any computer in the lab will love the SpyderHUB. Computer repair facilities that want to use eSATA hard drive enclosures for computer repair and backup will find the SpyderHUB is indispensable. Professional users looking for a way to expand their eSATA enclosure use to include computers that do not support a SATA host adapter will find the SpyderHUB provides an amazing solution. Apple users that want their external eSATA hard drive to be bootable will find the SpyderHUB can also provide this feature.
Instant Boot Capability
Many MacBook Pro users love their high performance SATA ExpressCard but they also desire the ability to boot from the eSATA enclosure for maintenance or testing. The SpyderHUB provides Mac OS X boot capability to any direct connect eSATA enclosure using the built-in, high quality, FirmTek eSATA to FireWire 800/400/USB 2.0 converter. This feature not only increases connectivity options but also enhances flexibility by providing instant eSATA boot capability for all currently shipping Macintosh computer models.
Instant Delivery
When professional users are creating videos, audio or other multimedia content they typically use the powerful Mac Pro. When the final presentation is delivered to the client a MacBook Air, MacBook Pro, MacBook, iMac or Mac mini may be used. The SpyderHUB allows the same eSATA hard drives used in the creation process to also deliver the presentation which reduces time, energy and equipment needs. There are many ways that the SeriTek/SpyderHUB can enhance productivity with the use of eSATA direct connect enclosures.
The FirmTek Solution
The FirmTek SeriTek/SpyderHUB addresses the issue of eSATA interface compatibility with an entirely new approach. The SpyderHUB can be installed to connect up to two SATA hard drives with a FireWire 800, (400 with an optional adapter) or a USB 2.0 host connection when an SATA host adapter is not available. When a SATA host adapter is available, the SpyderHUB is removed and the FirmTek eSATA connectors are used. This method provides compatibility while maintaining the high performance eSATA direct connect interface. The SpyderHUB allows FirmTek direct connect enclosures to be used with MacBook Air, MacBook, iMac or Mac mini FireWire/USB 2.0 connections for expanded connectivity options.

Two eSATA + FireWire
When the SeriTek/SpyderHUB is connected to a computer via FireWire it can also be used to daisy chain additional FireWire devices. This feature expands the storage connection options of the SpyderHUB to include FireWire devices. The FirmTek SeriTek/SpyderHUB is the only device on the market that allows existing direct connect SATA enclosures to interface with a FireWire host connection. FirmTek customers can now enjoy the expanded capability of using their direct connect SATA enclosures with any computer system.

Hardware RAID
The SeriTek/SpyderHUB supports JBOD, RAID 0 and RAID 1 using Disk Utility. It also provides hardware RAID 0 and concatenate options for users that would like to configure a hardware RAID that can be used with a PC or Mac OS X. This embedded hardware RAID feature allows a SpyderHUB hardware RAID to be moved between PCs and Macintosh computers when Master Boot Record is selected as the partition format.


Provides Mac OS boot capability to eSATA enclosures
Allows content to be shared between different Macintosh and/or PC models
Provides FireWire Daisy Chaining capability
Operates using bus power
Expands eSATA direct connect enclosure connectivity to include FireWire 800/400/USB 2.0 host interfaces. (FireWire 400 requires optional adapter)
Features dual external eSATA and a FireWire device port
Features a FireWire 800 or a USB 2.0 host port
Power and activity LEDs for each hard drive
Supports JBOD or Hardware RAID 0/Concatenate modes
SATA II compliant; auto-negotiation between the latest 3Gb/s and legacy 1.5Gb/s Serial ATA drives
Attractive design
Features Kensington Security Slot
Easy to set up, easy to transport, compact and portable
Platform and Operating system independent; compatible with all Macintosh and PC computers running Mac OS X, Windows and Linux
Requires a *Direct Connect SATA enclosure. Designed to work optimally with FirmTek products
*Definition: A Direct Connect SATA enclosure ONLY has eSATA connectors (one eSATA port per hard disk)
FireWire bus must be disconnected during HD configuration changes
eSATA/USB and eSATA/USB/FireWire enclosures are not supported
Port Multiplier enclosures are not supported
One FirmTek SeriTek/SpyderHUB
One CD-ROM containing the SeriTek/SpyderHUB User Manual