[ PR | Features | Specification | Performance | Advantages | Compatibility | Image | Manual | Install | Reviews | Buy ]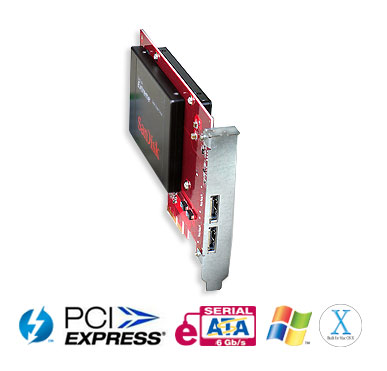 OS X Bootable, Internal & External SATA 6G Adapter With PM for PCI-Express 2.0 Equipped Apple Mac Pro, Windows 7/8 PC or Thunderbolt PCIe Expansion Chassis
The SeriTek/6G2+2 is compatible with legacy 2012 and earlier Apple Mac Pro computers with an available PCI-Express 2.0 slot. This new design allows FirmTek customers to directly mount up to two 2.5" SSD or HDD on the card while also providing two external eSATA ports. Drives connected to the SeriTek/6G2+2 are bootable with Mac OS X 10.6.8 or later, whether installed in a legacy Mac Pro or inside a Thunderbolt PCIe expansion chassis like the ThunderTek/PX. Connecting an ultra fast SSD boot drive has never been easier.
Mount 2.5" Drives On The Card
The unique SeriTek/6G2+2 design is aimed to meet the needs of customers who wish to be able to easily add an internal SSD to their computer. No cables to worry about - just mount the 2.5" SSD directly on the card and use the included screws to hold it firmly in place. Up to two SSD or HDD can be attached to the card, one on each side. The card provides the power and the ultra fast 6G SATA connections. With each port featuring bandwidth over 500MB/s, the Q6G offers a great option for adding a bootable 6G SSD to the Apple Mac Pro.
Thunderbolt Ready
The dual functionality of the SeriTek/6G2+2 design, allows it to be used in a Thunderbolt expansion chassis like the FirmTek ThunderTek/PX. This card supports two SSD or HDDs inside the ThunderTek/PX, while still offering two external eSATA ports which can be used with port multiplier enclosures like the SeriTek/5PM or direct connect enclosures like the miniSwap/ES. Users can support up to 12 drives with two internal SSDs and two 5PM enclosures attached. The SeriTek/6G2+2 turns the ThunderTek/PX into a dual-bay Thunderbolt enclosure with plenty of room for external eSATA expansion. Flexibility, speed and a small footprint makes the ThunderTek/PX-2+2 an amazing storage expansion station. It's the best of both worlds.
SeriTek/6G2+2 - RAID 0 Performance
The QuickBench Test results displayed below provide an example of SeriTek/6G2+2 performance using a RAID 0 configuration with dual 6G SSDs. A 2009 Apple Mac Pro 2.26 GHz running Mac OS X 10.9.2 with 12GB of memory was used along with two 128GB SSDs for this test.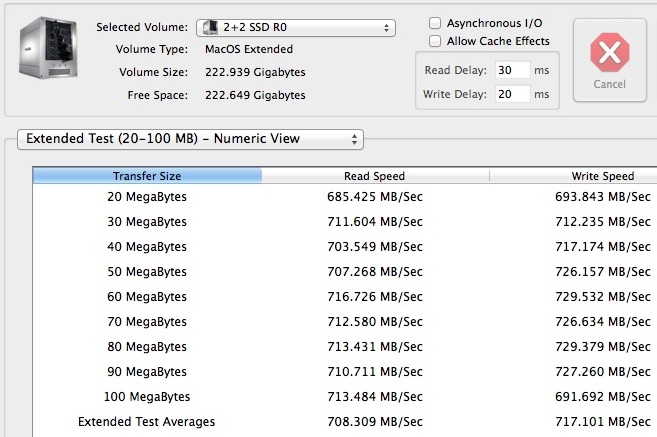 Boot Mac OS X Using SeriTek/6G2+2
The DiskTester 2.0 results below show a single 6G SSD used as a boot drive with Mac OS X while mounted on the SeriTek/6G2+2. Read transfer rates up to 500MB/sec. were recorded.