[ PR | Features | Specification | Performance | Advantages | Compatibility | Image | Manual | Install | Reviews | Buy ]
FirmTek Ships New Storage Spin on a Classic Technology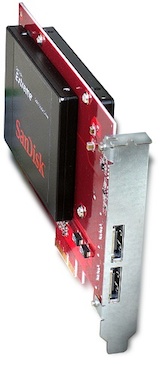 The SeriTek/6G2+2 PCIe SATA adapter allows users to mount two high-speed, high-capacity 2.5" drives directly on the controller which eliminates the need for separate enclosures, power supplies and cabling. Bonus: It also supports separate enclosures, power supplies, and cabling to connect a total of 12 drives ;-)
Union City, Calif., May 14, 2014
- FirmTek, LLC, a pioneer and leader in Serial ATA (SATA) storage solutions is shipping a new take on a 30-year old idea: Letting you place drives directly on the controller to save space and reduce complexity. The SeriTek/6G2+2 provides mounting points for two 2.5" HDD, SSD, or SSHD SATA drives, along with two external hot-swap eSATA ports supporting direct-connect and port-multiplication enclosures - all with a half-length PCIe card. It is Windows compatible and Mac OS X bootable, whether installed inside a PC or legacy Mac Pro with a PCIe 2.0 4-lane or higher slot, or mounted in a Thunderbolt PCIe expansion chassis.
Performance
"The affordability of 6G SSD storage devices increases the need for ultra-high performance 6G SATA controllers with sufficient bandwidth to maximize throughput. With real world storage performance results in excess of 500MB/s per channel, the SeriTek/6G2+2 provides a great way to add high-speed storage internally while still supporting external eSATA drives,", said Chi Kim Stanford Vice President of Business Development. The SeriTek/6G2+2 is ideal for audio/video editing, photography, large media content libraries, storage expansion, backup and any application where internal or external high performance data storage is desirable.
Windows, Mac Pro or Thunderbolt
For connecting high-speed external SATA enclosures, the SeriTek/6G2+2 works equally well as a powerful storage adapter in Windows PCs, the 2008-2012 Mac Pro or within a Thunderbolt PCIe expansion chassis such as the ThunderTek/PX. Due to performance rivaling that of traditional tower computers, many professionals are now turning to notebooks as their primary platform for working with audio, video and photography. The Thunderbolt expansion chassis helps unlock the full performance and storage potential of Thunderbolt-equipped Windows notebooks as well as Apple's latest systems such as the 2013 Mac Pro, MacBook Pro, MacBook Air, Mac mini, and the iMac.
Configurations
The SeriTek/6G2+2 is built to support both internal HDD/SSD/SSHD and several types of eSATA enclosures. Direct connect enclosures like the
miniSwap/ES
, link each drive to its own individual eSATA port. This configuration offers the ultimate in performance with the lowest number of drives. The SeriTek/6G2+2 also supports port multiplication enclosures like the
SeriTek/5PM
. The 5PM allows up to five SATA drives to be connected to a single port, or up to 40TB at your disposal with ten hard drives and two 5PM enclosures.
While the miniSwap/ES and the SeriTek/5PM can be used separately with the SeriTek/6G2+2, a configuration commonly deployed is the combination of ultra-fast SSD data storage along with 5-bays of high capacity 3.5-inch SATA storage provided by the SeriTek/5PM. This combination offers the best of both worlds: Incredibly fast copying and editing while maintaining access to virtually unlimited external storage potential for customer distribution and archival purposes.
Key Features and Benefits
Mount up to two 2.5" SSD or HDD directly on the card

Mac OS X 10.6.X through 10.9.x bootable with PCIe 2.0 slot

Two external eSATA ports with port-multiplication and direct connect support

Supports up to 12 SATA hard disks using dual SeriTek/5PM enclosures

Supports Windows 7 and 8 (non-bootable)

Compatible with Thunderbolt PCIe Expansion Chassis like ThunderTek/PX (Windows 8 & Mac OS X)

Converts ThunderTek/PX into an internal dual bay Thunderbolt enclosure

PCI-Express Base 2.0 specification compliant, supports 2.5 Gbps and 5.0 Gbps

Backwards-compatible with SATA 6.0 Gb/s, 3.0 Gb/s and 1.5 Gb/s hard drives

Fully compliant with Serial ATA Revision 3.0 specification

S.M.A.R.T application support for third party Macintosh utilities

Supports Disk Utility RAID and JBOD configurations

Complete CRC error checking for ensuring data integrity

Provides hot swap and PM support not available with internal Mac Pro bays

Bandwidth can exceed 700MB/sec. with high-speed HHD/SSD configuration

User-upgradeable firmware


Pricing and Availability
The FirmTek SeriTek/6G2+2 eSATA controller for Apple Mac Pro and Windows 7/8 PC is available now, with a retail price of $199.95 USD. The SeriTek/6G2+2 (SATA-6G2+2) can be purchased from FirmTek distributors, resellers or directly from FirmTek. The SeriTek/6G2+2 is also available bundled with the miniSwap/ES (SATA-6G2+2-ES). For more information about the SeriTek/6G2+2, please visit FirmTek's website at
https://www.firmtek.com/seritek/seritek-6g22/
.
About FirmTek, LLC
Headquartered in Silicon Valley and founded by former Apple engineers, FirmTek is a leading hardware and firmware research and development company focusing on storage technologies. The company takes pride in developing the most reliable and most compatible high performance enhancement solutions offered through FirmTek's OEM and worldwide distribution channels. For information on how FirmTek helps users deploy, and organizations develop, advanced interface solutions, visit FirmTek's website at www.firmtek.com, or drop us a line at the FirmTek support page.
SeriTek is a trademark of FirmTek, LLC. Other trademarks are the property of their respective owners.