[ PR | Technology | Chassis | Specifications | Features | Compatibility | Performance | Manual | Install | Reviews | Buy ]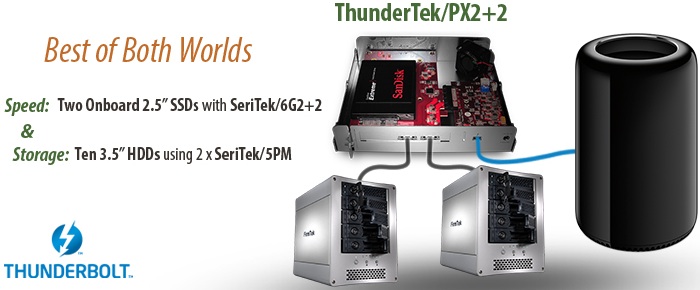 New! FirmTek Ships 2+2 SATA to Thunderbolt Adapter with Port Multiplier Compatibility
Storage Expansion Over Thunderbolt™
FirmTek LLC, is shipping the ThunderTek/PX PCIe Expansion Chassis and now offers the SeriTek/6G2+2 for providing internal and external storage expansion options. This new product is designed for use with the 2011 or later MacBook Pro, MacBook Air, iMac, Mac mini plus the late 2013 Mac Pro and other Thunderbolt equipped computers.
Thunderbolt technology provides ultra fast 10Gbs bi-directional, dual channel bandwidth with the use of a single, compact port. This new high performance standard brings the power of PCIe expansion to notebooks as well as desktop computers. In the past, computer storage connections were limited, as high performance, external, eSATA ports were usually not found on portable computer models. FirmTek has blown through this limitation with the introduction of the ThunderTek/PX2+2 - "Thunderbolt to SATA adapter".
ThunderTek/PX + 6G2+2 = ThunderTek/PX2+2
The ThunderTek/PX2+2 offers two internal 2.5" SSD or HDD high performance SATA ports inside the ThunderTek/PX chassis and two external eSATA ports for storage expansion. This high performance combination turns the ThunderTek/PX into a dual bay SSD Thunderbolt based enclosure that can be used as a boot drive with Mac OS X 10.6.x or later. High performance, versatility and easy upgradeability makes the ThunderTek/PX2+2 a perfect fit for customers wanting a Thunderbolt SSD enclosure that can also connect external eSATA enclosures over Thunderbolt.
Mount 2.5" Drives On The Card
The unique SeriTek/6G2+2 design is aimed to meet the needs of customers who wish to be able to easily add an internal SSD to their computer. No cables to worry about - just mount the 2.5" SSD directly on the card and use the included screws to hold it firmly in place. Up to two SSD or HDD can be attached to the card, one on each side. The card provides the power and the ultra fast 6G SATA connections. With each port featuring bandwidth over 500MB/s, the 6G2+2 offers a great option for adding a bootable 6G SSD to any Thunderbolt enabled Mac computer.
Amazing Performance
Thunderbolt technology combined with two internal SATA and two external eSATA ports offers EXTREME data performance for media professionals. Two high performance 2.5" SSDs in RAID 0 can provide performance over 700MB/s. And if large volumes are required, multiple SeriTek/5PM enclosures can be used with the ThunderTek/PX2+2 to support up to 10 additional simultaneous hard drive connections - all on a single Thunderbolt port.
ThunderTek/PX2+2 offers high-speed data transfers and lots of configuration options which fuels professional customers with the tools they need to get the job done in record time. ThunderTek/PX2+2 was designed to excel with audio/video editing, computer animation, digital photography, portable computing, storage expansion, backup and any application where high performance SATA data storage is desirable.
Thunderbolt is Expensive?
SAVE MONEY - by using your existing eSATA devices with your new Thunderbolt based computer. There's no need to purchase new expensive Thunderbolt storage enclosures when you can utilize your current eSATA storage devices with the FirmTek Thunderbolt to SATA adapter.
SAVE TIME - With the ThunderTek/PX2+2 you simply connect your existing eSATA enclosure to the Thunderbolt adapter and you're ready to go. No need to copy your data over to a new enclosure.
SAVE the PLANET - extending the life of your eSATA enclosures keeps electronic waste to a minimum while saving you time, money and equipment down-time.
Ease of Use
No need to turn off the computer when you want to connect a different external eSATA drive. The ThunderTek/PX2+2 supports hot swap so customers can easily attach or remove drives based on the current needed data set. With ThunderTek/PX2+2 installed, the customer is in control. Easy data access improves productivity and creativity for professional customers with large data libraries.
SATA Everywhere
"Macintosh and PC customers have wanted built-in external eSATA connections for years. Now with the release of the ThunderTek/PX2+2, high performance internal 2.5" SATA and external eSATA connections are possible on a wide variety of Thunderbolt equipped computers," said Chi Kim Stanford, Vice President of Business Development. Just plug in the ThunderTek/PX2+2 to provide instant SATA expansion capabilities.
ThunderTek/PX2+2 Key Features and Benefits
Bootable with PCIe 2.0 slot: Supports Mac OS X 10.6.x thru 10.9.x
Mount up to two 2.5" SSD or HDD - right on the card
Two external eSATA ports with PM and direct connect support
Supports up to 12 SATA hard disks using dual SeriTek/5PM
Easy to Use: Simply Plug and Play
Save time and money by using existing eSATA devices
High-performance 10 Gb/s, dual channel, Thunderbolt technology
Attractive, durable, portable ThunderTek/PX PCIe Expansion chassis
Supports direct connect, SiI3726 Port Multipliers and Oxford 936 eSATA enclosures
Supports SATA 1.5G, 3G or 6G HDD or SSD of any capacity
Fully RAID capable: Compatible with Operating System based RAID solutions
Aluminum case for maximum durability and heat dissipation
High performance - can handle multiple projects simultaneously
Perfect for both storage-hungry and speed-sensitive applications
Cross-platform, PC and Macintosh compatible, operating system independent
Platform independent: Macintosh or Windows 7/8 computers with a compatible Thunderbolt port
Works with most direct connect, SiI3726 PM and Oxford 936 based eSATA enclosures
Optimized for FirmTek miniSwap/ES, SeriTek/2EN2, SeriTek/2eEN4 and SeriTek/5PM
ThunderTek/PX Chassis is full with one SeriTek/6G2+2 installed
One ThunderTek/PX Adapter
External Power Adapter
One power cord
One SeriTek/6G2+2
Six 2.5" drive mounting screws
Two SeriTek/6G2+2 mounting posts
Thunderbolt cable not included

"Thunderbolt and the Thunderbolt logo are trademarks of Intel Corporation in the U.S. and/or other countries."