[ PR | Technology | Chassis | Specifications | Features | Compatibility | Performance | Manual | Install | Reviews | Buy ]
ThunderTek/PX2+2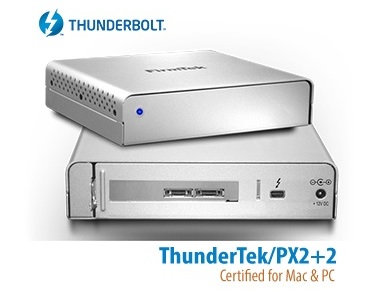 FirmTek Ships the Ultimate in Thunderbolt™ Storage Flexibility: The ThunderTekPX2+2
Newsflash!
FirmTek combines their popular ThunderTek/PX Thunderbolt expansion chassis with the recently introduced SeriTek/6G2+2, a SATA adapter which supports external eSATA enclosures while incorporating a clever 30-year-old idea: Letting you place drives directly onto the controller to save space and reduce complexity.
FOR IMMEDIATE RELEASE
UNION CITY, California (May 20, 2014) FirmTek, LLC, a world-leading developer of external storage solutions, today is announcing and shipping the ThunderTek/PX2+2. A flexible all-in-one Thunderbolt storage solution accommodating two high-speed 2.5" SSD, HDD, or SSHDs internally, the ThunderTek/PX2+2 also provides two external eSATA ports for connecting external direct-connect and port-multiplier eSATA enclosures. "Thunderbolt delivers unparalleled performance, flexibility and simplicity to personal computing." said Jason Ziller, Intel's director of Thunderbolt Marketing, "Products like the FirmTek ThunderTek/PX2+2 help highlight what Thunderbolt makes possible." Transfer HD movies in less than 30 seconds or backup a terabyte of content in less than 10 minutes. All of this is possible with Thunderbolt.
ThunderTek/PX + SeriTek/6G2+2 = ThunderTek/PX2+2
The ThunderTek/PX2+2 is comprised of the ThunderTek/PX, FirmTek's popular Thunderbolt PCIe expansion chassis, and the SeriTek/6G2+2, FirmTek's premiere storage adapter. The SeriTek/6G2+2 was designed to meet the needs of customers who wish to be able to easily add an internal SSD to their computer without any fuss. No cables, enclosures, or power supplies to worry about - just mount a 2.5" drive directly on the card and use the included screws to hold it firmly in place. Up to two HDD, SSD or SSHD drives can be attached to the card, one on each side. The card provides both power and fast 6G SATA connections. With each port featuring bandwidth over 500MB/s, the SeriTek/6G2+2 offers a great option for adding high-performance 6G SSD to any Thunderbolt enabled Mac or Windows 8/8.1 computer.
Performance with Expandability
10Gbps per channel Thunderbolt technology combined with two internal SATA and two external eSATA ports offers extreme data performance and flexibility for media professionals. Two high performance 2.5" SSDs in RAID 0 can provide performance over 700MB/s sustained throughput. And when access to large data sets is required, multiple SeriTek/5PM enclosures can be used with the ThunderTek/PX2+2 to support up to 12 simultaneous drive connections - all with a single Thunderbolt port.
"With the ThunderTek/PX2+2 offering high-speed transfer rates with many configuration options, we're equipping professionals with the tools they need to get jobs done in record time," said Chi Kim Stanford, VP of Business Development at FirmTek. "ThunderTek/PX2 +2 was designed to excel with audio/video editing, computer animation, digital photography, portable computing, storage expansion, backup and any application where fast access to virtually unlimited SATA data storage is desirable."
Saving Time, Money and the Planet
Install SSDs inside the ThunderTek/PX2+2 for excellent performance. Instantly access multiple projects stored in new or existing eSATA enclosures and avoid wasting hours transferring data to new enclosures. Extending the life of eSATA enclosures helps save the planet by keeping electronic waste to a minimum in addition to saving time, money and equipment downtime. Leveraging this upgrade path helps to cost-effectively avoid storage technology speed bumps. Future-proofing your storage footprint has never been easier.
The SeriTek/6G2+2 PCIe adapter bundled with the ThunderTek/PX (P/N TT-PW-2+2) delivers two internal and two external ports for connecting native eSATA enclosures including the miniSwap/ES, SeriTek/2EN2, SeriTek/2eEN4 and the SeriTek/5PM.
Ease of Use
No need to turn off the computer when you want to connect a different external eSATA drive. The ThunderTek/PX2+2 supports hot swap to easily attach or remove drives based on the current needed data set. With ThunderTek/PX2+2 installed, the user is in control. Easy data access improves productivity and creativity for professional users with large data libraries.
ThunderTek/PX2+2 Key Features and Benefits
ThunderTek/PX2+2 is Mac OS and Windows certified for Thunderbolt
Mount up to two 2.5" HDD, SSD, or SSHD drives - right on the card
Two external eSATA ports for connecting external direct-connect and port-multiplier eSATA enclosures
Bootable: Supports Mac OS X 10.6.8, 10.7.x, 10.8.x
Supports BootCamp, Windows 8 and 8.1 (non-bootable)
Compatible with 2011 or later MacBook Pro, MacBook Air, iMac, Mac mini, 2013 Mac Pro and other Thunderbolt equipped computers.
Compatible with previous generation SATA I & II drives (1.5Gb & 3Gb)
Fully RAID capable: Compatible with Operating System based RAID solutions
Supports direct-connect SATA enclosures like the miniSwap/ES, SeriTek/2EN2, SeriTek/2eEN4
Supports port-multiplication SATA enclosures with Sil3726 & Oxford 936 chipsets, including the SeriTek/5PM
Supports up to 12 SATA hard disks using dual SeriTek/5PM enclosures
PCIe expansion via Thunderbolt offers up to 10Gb/s dual channel data transfer rates
Thunderbolt/PX chassis supports compatible PCIe cards for eSATA, USB 3.0, 8Gb Fibre Channel, 10G Ethernet, audio and more; single half-length PCIe 2.0 x1, x2 or x4 cards up to 6" in length
Energy Saver Mode: Automatically powers on/off with your computer
Light-weight, rugged, aluminum case for maximum durability and heat dissipation
Ventilated case with quiet fan operation
Single Thunderbolt connector; single power connector
Perfect for both storage-hungry and speed-sensitive applications
Expand storage without overloading the computer's power supply or increasing heat within its chassis
Availability
The FirmTek ThunderTek/PX2+2 bundle is available now from FirmTek authorized resellers. The ThunderTek/PX PCIe expansion chassis and SeriTek/6G2+2 SATA PCIe adapter are also available separately. For more information or to purchase FirmTek products, please visit FirmTek's website at www.firmtek.com.
About FirmTek
Headquartered in Silicon Valley and founded by former Apple engineers, FirmTek is a leading hardware and firmware research and development company focusing on storage technologies. The company takes pride in developing reliable, high performance computer storage solutions. FirmTek products are offered through FirmTek's OEM and worldwide distribution channels. For information on how FirmTek helps users deploy, and organizations develop, advanced storage interface solutions, please visit FirmTek's website at www.firmtek.com, or drop us a line at the FirmTek support page.
FirmTek, UltraTek, AV- Tek, SeriTek names and logotypes are trademarks of FirmTek, LLC. Apple, Macintosh, MacBook, MacBook Air, Mac Pro, MacBook Pro, Mac, and the Mac logo are registered trademarks of Apple Computer, Incorporated. Windows is a registered trademark of Microsoft Corporation. Thunderbolt and the Thunderbolt logo are trademarks of Intel Corporation in the U.S. and/or other countries.